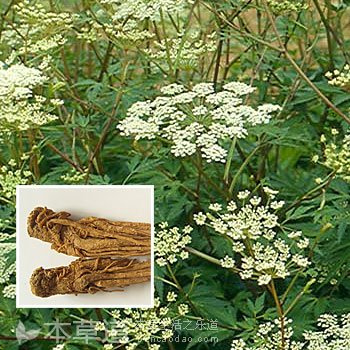 Angelica sinensis,
commonly known as "dong quai" or "female ginseng" is a herb from the family Apiaceae, indigenous to China.
Its dried root is commonly known in Chinese as Radix Angelicae Sinensis, or Chinese angelicaand is widely used in Chinese traditional medicine to treat gynecological ailments, fatigue, mild anemia and high blood pressure. It has analgesic, anti-inflammatory, antispasmodic and sedative effects. The plant's phytochemicals consist of coumarins, phytosterols, polysaccharides, ferulate, and flavonoids.It has antioxidant activity.
This herb is used by herbalists for the female reproductive system, as they believe that it is a uterine tonic and hormonal regulator. It is often used in premenstrual syndrome formulas as well as menopausal formulas. However, this herb is not recommended during pregnancy due to possible hormonal, anticoagulant, and antiplatelet properties. Animal research has noted conflicting effects on the uterus, with reports of both stimulation and relaxation. Dong quai is traditionally viewed as increasing the risk of miscarriage.
There is one case report of
gynaecomastia
following consumption of ding dang gui root powder pills