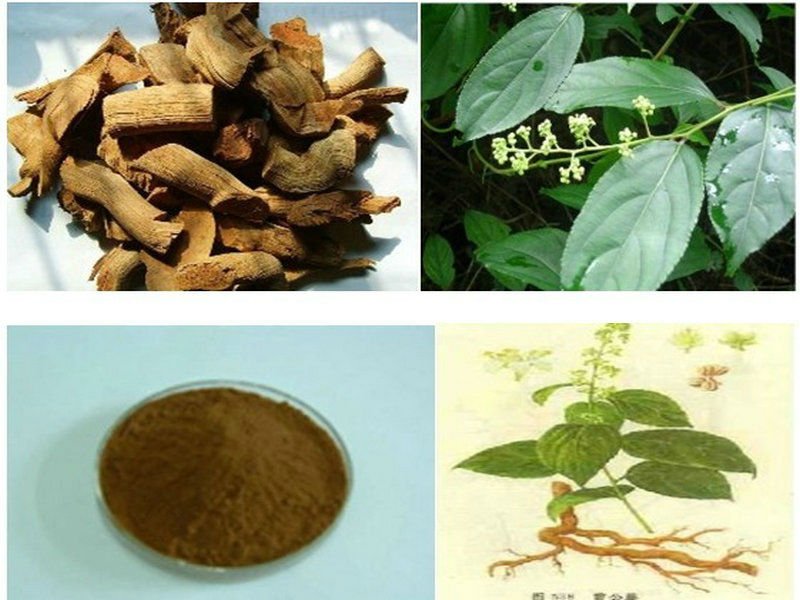 Tripterygium wilfordii, or lei gong teng , sometimes called Thunder God Vine
, is a vine used in
traditional Chinese medicine
for treatment of fever, chills, edema and carbuncle. Tripterygium wilfordii recently has been investigated as a treatment for a variety of disorders including rheumatoid arthritis, chronic hepatitis, chronic nephritis, ankylosing spondylitis, as well as several skin disorders.
Medical uses:
Certain extracts from Tripterygium wilfordii, as well as from Tripterygium hypoglaucum (now considered identical to T. regelii) and
Tripterygium regelii
, were discovered in the 1980s to have temporary antifertility effects, which has led to research on its potential as a contraceptive. "Tripterygium wilfordii Hook.f., known as Leigongteng (Thunder God Vine) in traditional Chinese medicine, has attracted much attention for its applications in relieving autoimmune disorders such as rheumatoid arthritis and systemic lupus erythematosus, and for treating cancer. Molecular analyses of the ITS and 5S rDNA sequences indicate that T. hypoglaucum and T. doianum are not distinct from T. wilfordii, while T. regelii should be recognized as a separate species. The results also demonstrate potential value of rDNA sequence data in forensic detection of adulterants derived from Celastrus angulatus in commercial samples of Leigongteng." Not enough is known about T. wilfordii to actually test it as a contraceptive. Research thus far has dealt with establishing the mechanism by which the plant affects fertility, and investigating toxicity and side effects. What has been learned is encouraging, however: in both animals and humans, low doses of various Tripterygium extracts can produce significantly lowered sperm density and motility indices without major side effects. When the treatment was ended in the various trials, all indices returned to normal within months. The plant contains many active compounds, at least six of which have male anti-fertility effect (triptolide, tripdiolide, triptolidenol, tripchlorolide, 16-hydroxytriplide and a compound known as T7/19, whose structure is unpublished). The mechanism by which they affect fertility is not yet understood. What is known is that daily doses of these compounds reduce sperm counts and also severely affect the formation and maturation of sperm, causing them to be immotile.